DHA History 1949-1959
Thanks to OpenDurham.org, there are many photographs and stories that reveal Durham's fascinating and often complicated history. Throughout this year as we celebrate 70 years of service to the Durham community, we will be remembering DHA's journey from 1949 through 2019.
DHA's history began with the Federal Housing Act of 1949, which created three Federally funded programs:
Title I: Federal funding for "slum clearance" in American cities, which would come to be known as "Urban Renewal" by the Housing Act of 1954.
Title II: Liberalization of the standards for FHA-backed mortgages.
Title III: Federal Funding to build 800,000 public housing units.
News coverage from The Durham Sun, 11.13.1950:
Big Housing To Be Named Few Gardens: 200-Unit Project Will Honor Duke's Former President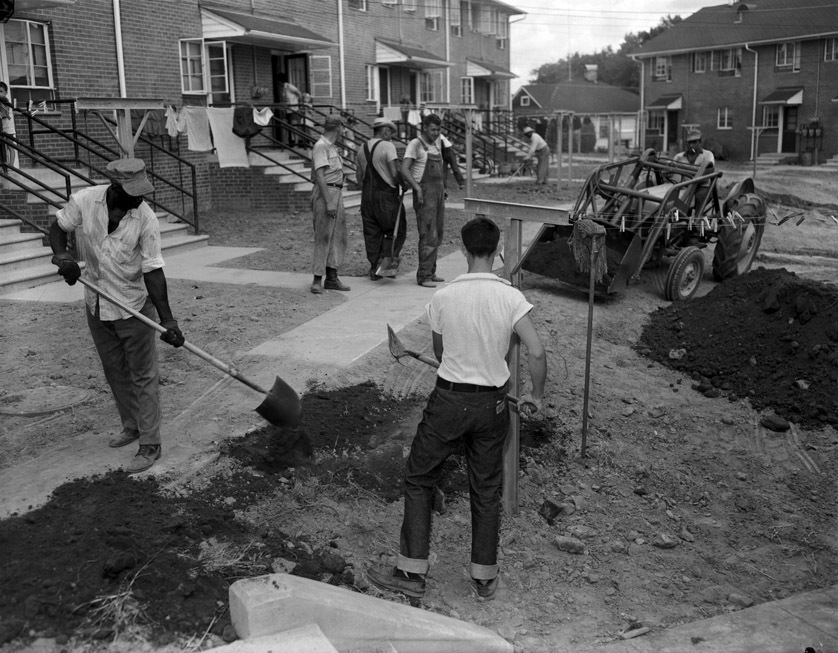 The 200-unit white housing project to be located in East Durham will be named Few Gardens in honor of the late Dr. W. P. Few, former president of Duke University.
The announcement of the project's title was made this morning by Leroy Addington, director of the Durham Housing Authority. Addington said Few Gardens would be so named as a tribute of recognition to the Duke president, "in commemoration of his services to the community and the South." "The project," Addington said, "will serve to perpetuate a beloved and well-known name among Duke Educators."
In response to a letter from the local Housing Authority informing Mrs. Few of the tribute to be paid her husband, the late educator's wife replied: "That the Housing Authority should be the first to commemorate Dr. Few here touches and pleases me more than I can say. It is particularly fitting that this housing project be named for him, as he devoted his life and fine abilities to the development of this city and his beloved Southland. The recognition you accord him will give my sons and me great satisfaction."
The location of the project was announced last week by Addington. It consists of two land tracts comprising 22 acres which the city has been granted an option for purchase at $41,200.
The option, granted by Golden Belt Manufacturing Company, includes six houses located on the property.
The larger of the tracts is bounded by Holman Street, Morning Glory Avenue and Taylor Street, while the smaller is bounded by Taylor Street, Alston Avenue and the Golden Belt property line.
Two weeks ago, a 200-unit project for Negroes was announced with a location in the College View section. Addington said today that no name has been chosen for that portion the local housing program.
---
News coverage from The Durham Sun: 04.04.1952:
725 Attend Few Gardens Ground-Breaking Program
Approximately 125 persons attended formal ground-breaking exercises for Durham's first public housing project here yesterday afternoon. The simple, impressive rites were conducted on the Holman Street side of the project site as bulldozers there to do grading work, idled their motors on the far side of the area.
William Muirhead, chairman of the Durham Housing Authority, described the history of the Few Gardens project from the date the Authority was appointed by former mayor Dan K. Edwards in October, 1949.
He added that he hopes to see the entire project completed within 15 months. It will include 240 low-rent apartments to be occupied by local families with small incomes.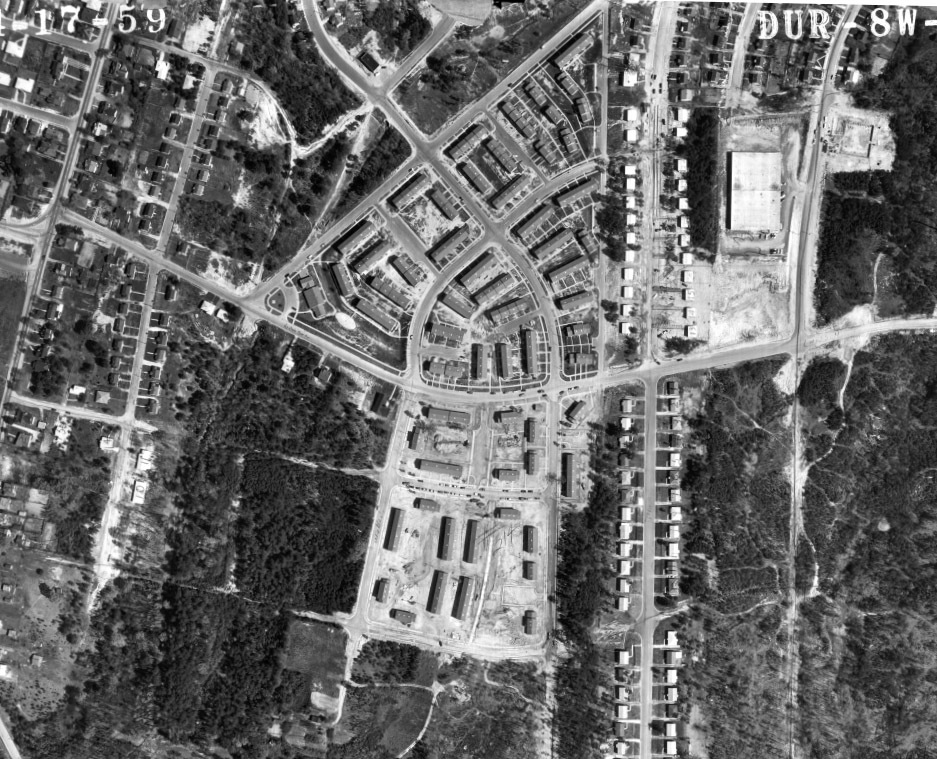 Muirhead also stated that plans for the local Negro project, to be known as McDougald Terrace, should go to Richmond, Va., for approval "within 10 days," and said' he hopes to see that project started this spring. That unit will be erected in the College View Section.
Following Muirhead's opening remarks yesterday, Mayor E. J Evans paid tribute to the late W. P. Few, former president of Duke University in whose honor Few Gardens is named, and Mrs. Few, widow of the honoree, commented: "My sons and I regard this as a beautiful memorial to their father, and we are deeply grateful to you for it."
With that remark and the turning of a spade of dirt by Muirhead, Mayor Evans, and several others, the formal ceremony ended and the idled bulldozers nearby resumed their ground-leveling work.
---
The initial inhabitants of the new public housing in Durham (Few Gardens, a 'White project' was closely followed in 1954 by McDougald Terrace, a 'Black project') and most cities were the marginalized working class - low-paid factory workers who could no longer afford housing or could not find housing near their work. Thus, many of the initial inhabitants of Few Gardens were substantially similar in their economic (mis)fortune to their immediate neighbors in Edgemont and Morning Glory. The same held true in McDougald Terrace.
The Garden City-style new public housing was widely praised by new residents - many who had lived in tenement-like conditions in early 20th-century housing badly neglected by landlords.