02/25/2019
Light Rail Makes The Connection for Jobs, Housing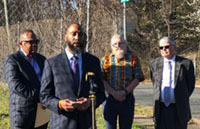 At the now-vacant Fayette Place, a former public housing community, Durham's Education leaders and its Housing Authority CEO will come together to emphatically voice their support for the region's proposed light rail project.
"It's rare for large scale change to directly benefit the most vulnerable populations of Durham," said Anthony Scott, Durham Housing Authority's CEO. "This is especially true for poor and minority residents. From the building of Highway 147 to a booming downtown, large scale change has left these populations worse-off, with little direct benefit."
DHA's vision for the redevelopment of its public housing communities means that 1 in 5 Durham city residents currently living in poverty will have opportunities for housing and jobs. Planned redevelopment will increase the overall number of units in the downtown area from less than 450 to over 2,500 mixed-income units. This approach will have the greatest impact through connecting and leveraging every available opportunity. DHA began pursuing its strategy by exploring community assets coupled with the opportunities of the Durham Orange Light Rail (DOLR).
"It's all connected," said Scott. "The DOLR is at the center of a rare opportunity for a large-scale change to have a direct positive impact to vulnerable communities in Durham."
Dr. Michael Page, Direct of External Affairs for North Carolina Central University (NCCU) and Durham Technical Community College President William Ingram say the DOLR project can grow enrollment, enhance research and offers an unusual opportunity to strengthen neighborhoods and the quality of life in Durham.
"The planning, construction, and ongoing operation of the rail line will lead to well-paying jobs in the design, engineering, construction and transportation industries jobs," said Ingram. Preparing local residents for those jobs is what Durham Tech does best.
Page said that NCCU has supported the project from its early stages. "[The DOLR] provides an efficient transportation alternative for the university's growing enrollment of 8,200 students and nearly 1,400 faculty via an environmentally sustainable transportation method," said Page. The system would enhance the region's partnerships and research collaborations, he said.