11/10/2020
DHA Residents Invited to Participate in Brain Studies
DHA encourages residents to support the important research being done related to COVID-19 and brain health.
The Center for Alzheimer's Aging and Community Health (COAACH) at North Carolina A&T State University are conducting a brief survey to examine the impact of COVID-19 related safer-at-home orders on long-term social functioning and well-being in the community. The survey will close on Friday, Nov. 13th. The survey will take only 5 minutes.
Follow this link to the Survey:
---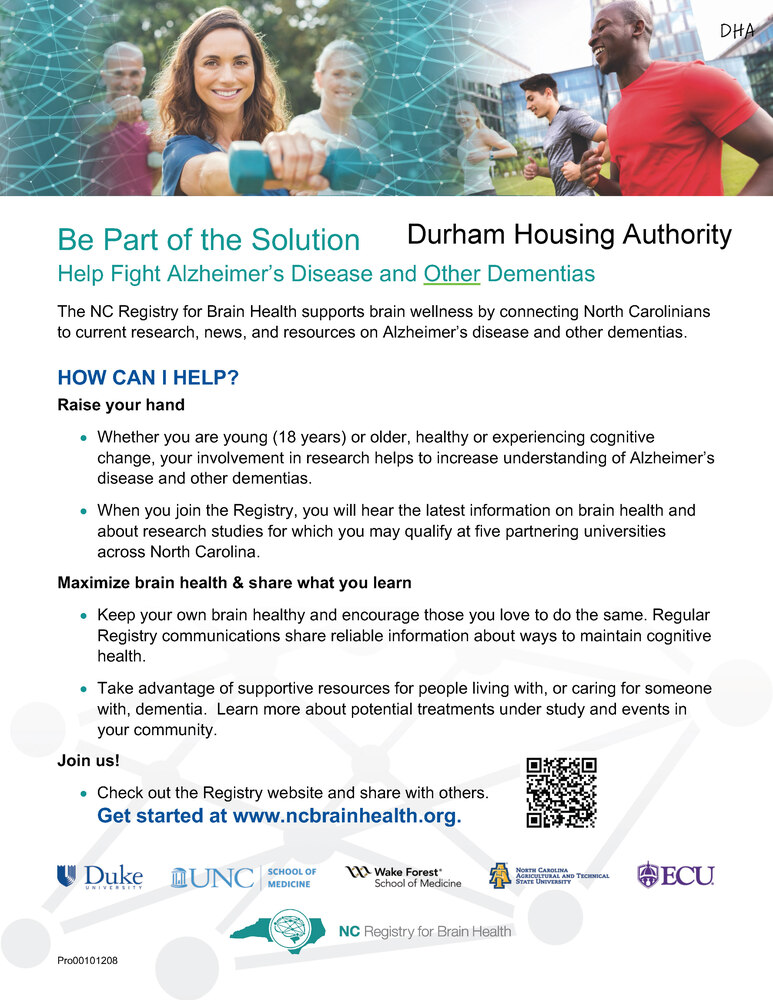 Be Part of the Solution Help Fight Alzheimer's Disease and Other Dementias
The NC Registry for Brain Health supports brain wellness by connecting North Carolinians to current research, news, and resources on Alzheimer's disease and other dementias.
How Can I Help?
Raise Your Hand

Whether you are young (18 years) or older, healthy or experiencing cognitive change, your involvement in research helps to increase understanding of Alzheimer's disease and other dementias.
When you join the Registry, you will hear the latest information on brain health and about research studies for which you may qualify at five partnering universities across North Carolina.

Maximize brain health & share what you learn

Keep your own brain healthy and encourage those you love to do the same. Regular Registry communications share reliable information about ways to maintain cognitive health.
Take advantage of supportive resources for people living with, or caring for someone with, dementia. Learn more about potential treatments under study and events in your community.

Join us!
Check out the Registry website and share with others. Get started at www.ncbrainhealth.org.
---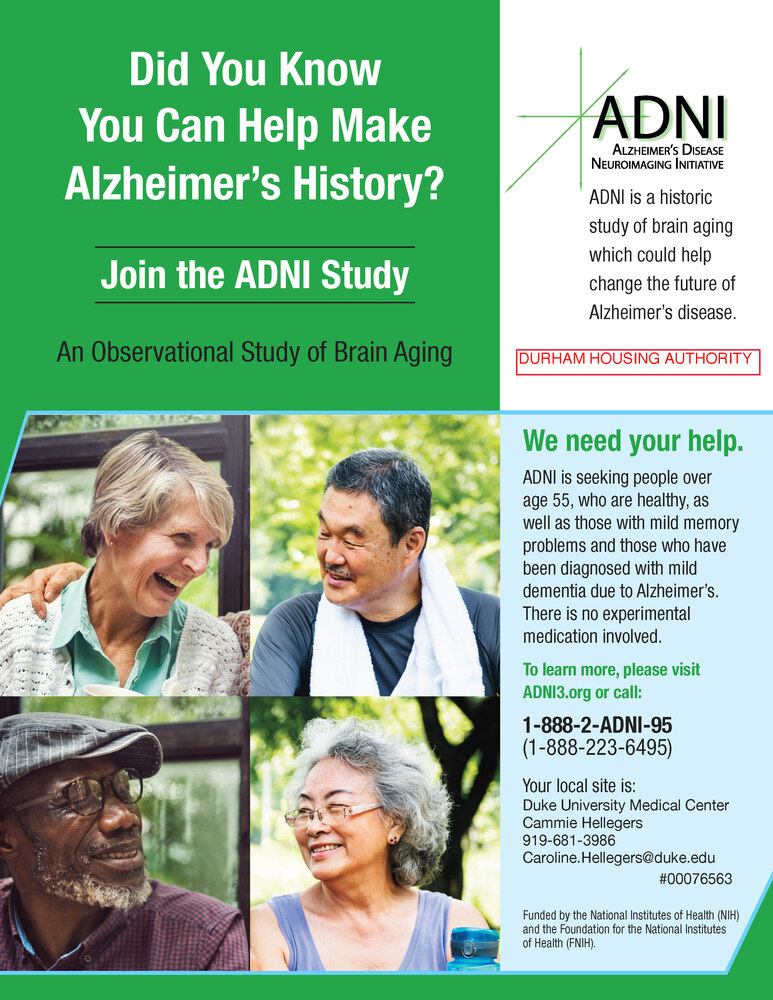 Did You Know You Can Help Make Alzheimer's History?
Join the ADNI Study!
An Observational Study of Brain Aging
ADNI: Alzheimer's Disease Neuroimaging Initiative
We need your help.
ADNI is seeking people over age 55, who are healthy, as well as those with mild memory problems and those who have been diagnosed with mild dementia due to Alzheimer's. There is no experimental medication involved.
To learn more, please visit ADNI3.org or call:
1.888.2.ADNI.95
1.888.223.6495

Your local site is:
Duke University Medical Center
Cammie Hellegers
919.681.3986


#00076563
Funded by the National Institutes of Health (NIH) and the Foundation for the National Institutes of Health (FNIH)