10/08/2020
Become an Engagement Ambassador for the City of Durham
The City of Durham is looking for engagement ambassadors to help the City plan its future.
---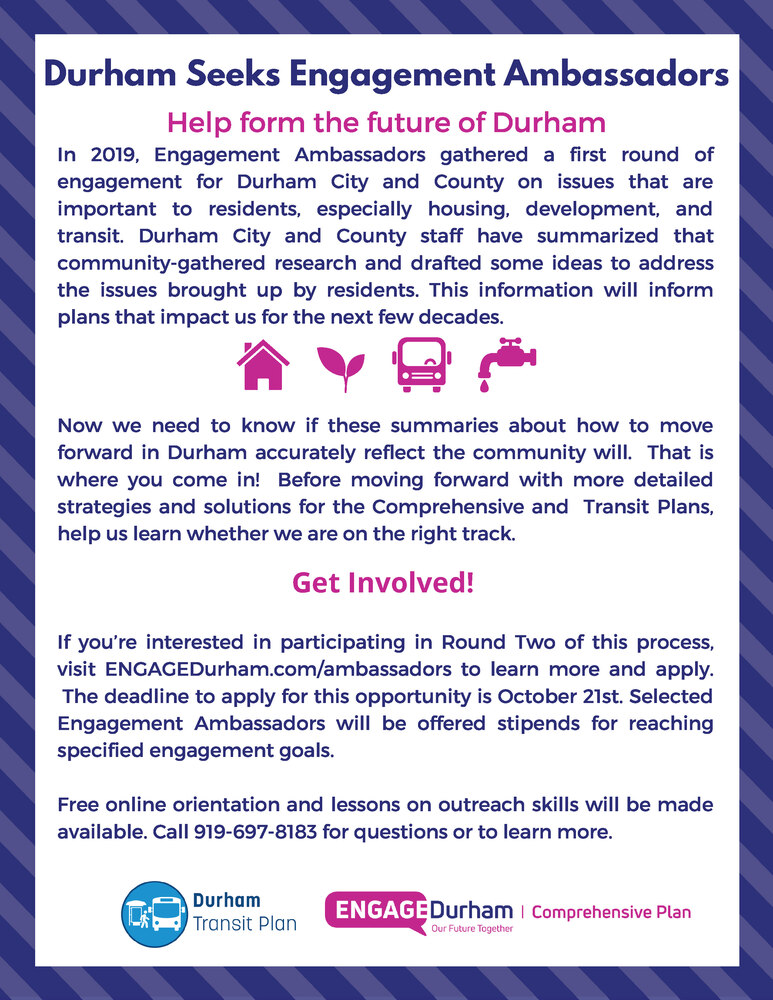 Durham Seeks Engagement Ambassadors
Help form the future of Durham

In 2019, Engagement Ambassadors gathered a first round of engagement for Durham City and County on issues that are important to residents, especially housing, development, and transit. Durham City and County staff have summarized that community-gathered research and drafted some ideas to address the issues brought up by residents. This information will inform plans that impact us for the next few decades.
Now we need to know if these summaries about how to move forward in Durham accurately reflect the community will. That is where you come in! Before moving forward with more detailed strategies and solutions for the Comprehensive and Transit Plans, help us learn whether we are on the right track.
Get Involved!
If you're interested in participating in Round Two of this process, visit ENGAGEDurham.com/ambassadors to learn more and apply. The deadline to apply for this opportunity is October 21st. Selected Engagement Ambassadors will be offered stipends for reaching specified engagement goals.
Free online orientation and lessons on outreach skills will be made available. Call 919.697.8183 for questions or to learn more.