01/10/2022
DHA Announces $470 Million Development Plans to Include Mixed-income Housing, Retail and Office Space
FOR IMMEDIATE RELEASE
DURHAM, NC (January 7, 2022) The Durham Housing Authority (DHA) is excited to announce the selection of development partners on three downtown area sites. These three sites are the second phase of its DHA Downtown and Neighborhood Plan (DDNP). The sites combine for 37+ acres, including Fayette Place, currently vacant, Forest Hill Heights an existing public housing community, and the DHA offices and adjacent county land.
The proposed mixed-use planning strategy across the sites collectively creates over 1,700 residential units and 135,000 sq. ft. of non-residential space, including a new administrative office for DHA. More importantly, the proposed developments will create nearly 900 units of affordable housing ranging from 30-80% of the Area Median Income, a primary goal of DHA. "The preservation and creation of additional affordable housing units were paramount in redeveloping these sites. The proposals more than exceed the original targets that we established in the DDNP," said DHA CEO Anthony Scott.
Two sites were awarded to Durham Development Partners, a joint venture team of F7 International Development, Greystone Affordable Development, and Gilbane Development Company. They were awarded the Fayette Place and the DHA Office and Criminal Justice Resource Center (CJRC) sites. The selected proposals include over 1,000 mixed-income residential units, a 42,000 square foot office building, and a 20,000 square foot retail parcel across two sites. "Our development team is grateful for the opportunity to partner with DHA/DVI, and we understand the historical significance of these sites and how crucial this redevelopment will be in reimaging these communities," said James (Monte) Montague, President of F7 International Development.
The DHA Board also approved The Integral Group, LLC for the redevelopment of the Forest Hill Heights community. "We will bring our capacity and focus to redefining national standards for communities committed to cultural inclusivity, shared prosperity, and housing affordability," said Vicki Lundy Wilbon, President of Integral's Real Estate platform. "The Tribute Rising development will leverage the substantial excitement and energy in Durham while respecting, acknowledging, and honoring the history and heritage of the community." Integral's proposal includes 700 mixed-income residential units and 73,000 square feet of commercial space.
"We're looking forward to working with each of our selected partners to bridge the affordable housing gap while creating new vibrant communities in Durham," said DHA Board Chair Dan Hudgins. "Implementing the DDNP will also generate additional job opportunities for our DHA residents and we're grateful to have selected partners who understand that vision," Scott added.
The selected development partners are set to enter Master Development Agreement negotiations with DHA and Development Ventures Incorporated ("DVI") for each site this year. Following this process, DHA and the development partners will initiate comprehensive community engagements to determine the final plans for each site.
---
ABOUT DHA
Durham Housing Authority, established in 1949, provides decent, affordable housing for families, people with disabilities, and the elderly through 2,000 affordable and Public Housing units and manages over 3,000 Housing Choice Vouchers for area landlords. Housing Choice Vouchers, previously Section 8, funded by the federal Department of Housing and Urban Development (HUD).
Our Mission is to develop, own, manage and contribute to diverse communities of choice.
To learn more information about Durham Housing Authority, please visit our website: https://www.durhamhousingauthority.org/ To learn about DDNP please visit: https://www.durhamhousingauthority.org/dha-downtown-and-neighborhood-planning-(ddnp)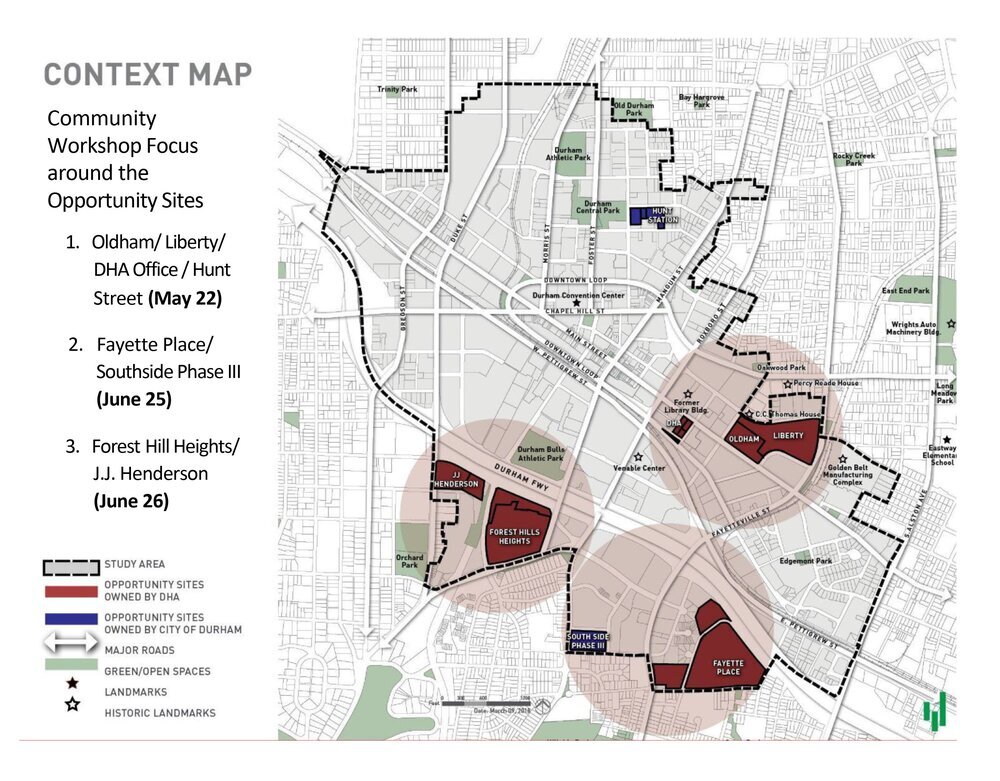 ---
Media Contact:
Aalayah Sanders (Communications Manager)
919.407.0460
Email Aalayah Sanders