01/21/2022
APPLY TODAY: Durham Rent Relief Program
Residents of DHA public housing can receive rental assistance on a first-come, first-served basis up until funding runs out. For your best opportunity to receive funding please apply before February 12th. This money is expected to go fast, so APPLY TODAY!
For more information contact:
LEGAL AID APPLICATION HELPLINE: 919-521-5777
DHA HOUSING STABILITY TEAM: 844-777-3277
To View Application Website, Click Here.
---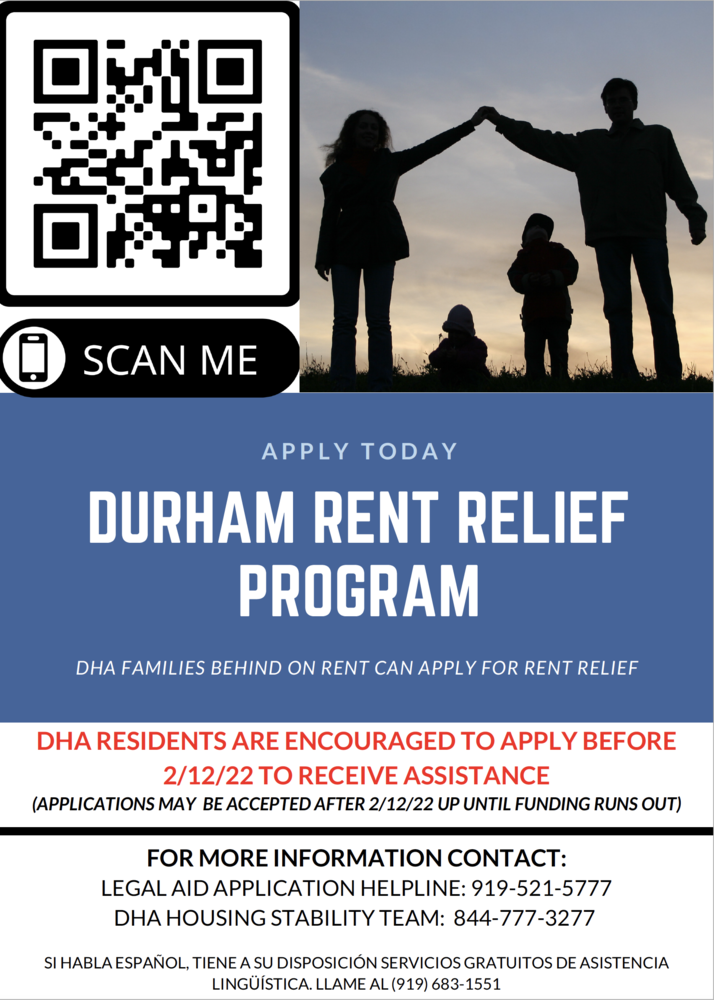 APPLY TODAY: DURHAM RENT RELIEF PROGRAM
DHA FAMILIES BEHIND ON RENT CAN APPLY FOR RENT RELIEF
DHA RESIDENTS ARE ENCOURAGED TO APPLY BEFORE 2/12/22 TO RECEIVE ASSISTANCE
(APPLICATIONS MAY BE ACCEPTED AFTER 2/12/22 UP UNTIL FUNDING RUNS OUT)
FOR MORE INFORMATION CONTACT:
LEGAL AID APPLICATION HELPLINE: 919-521-5777
DHA HOUSING STABILITY TEAM: 844-777-3277