01/21/2022
Jan 25th Resident CNI (Choice Neighborhoods Initiative) Meeting
Did you miss the Choice Neighborhoods Initiative Resident Meeting earlier this week? Watch the recap now available on YouTube.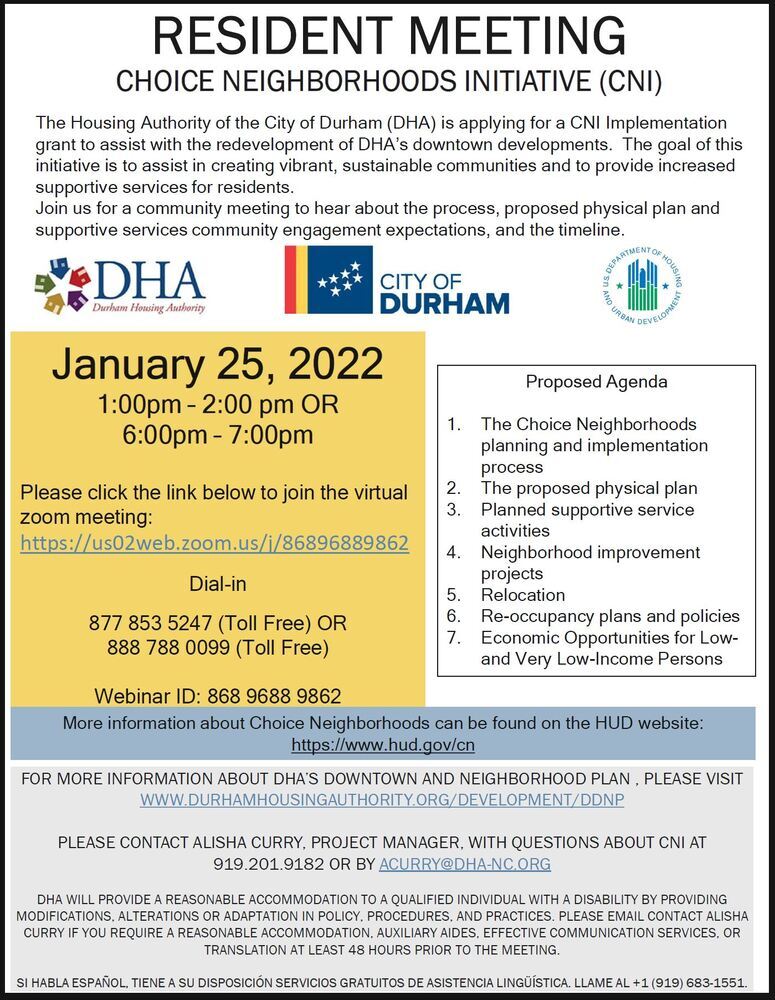 The Housing Authority of the City of Durham (DHA) is applying for a CNI Implementation grant to assist with the redevelopment of DHA's downtown developments. The goal of this initiative is to assist in creating vibrant, sustainable communities and to provide increased supportive services for residents.
Join us for a community meeting to hear about the process, proposed physical plan and supportive services community engagement expectations, and the timeline.
Durham Housing Authority
City of Durham
HUD (U.S. Department of Housing and Urban Development)
January 25, 2022
1:00pm - 2:00 pm OR
6:00pm - 7:00pm
Please click the link below to join the virtual zoom meeting:
https://us02web.zoom.us/j/86896889862
Dial-in
877.853.5247 (Toll Free) OR 888.788.0099 (Toll Free)
Webinar ID: 868 9688 9862
Proposed Agenda
1. The Choice Neighborhoods planning and implementation process
2. The proposed physical plan
3. Planned supportive service activities
4. Neighborhood improvement projects
5. Relocation
6. Re-occupancy plans and policies
7. Economic Opportunities for Low-and Very Low-Income Persons
More information about Choice Neighborhoods can be found on the HUD website: https://www.hud.gov/cn
FOR MORE INFORMATION ABOUT DHA'S DOWNTOWN AND NEIGHBORHOOD PLAN , PLEASE VISIT WWW.DURHAMHOUSINGAUTHORITY.ORG/DEVELOPMENT/DDNP
PLEASE CONTACT ALISHA CURRY, PROJECT MANAGER, WITH QUESTIONS ABOUT CNI AT
919.201.9182 OR email Alisha.
DHA WILL PROVIDE A REASONABLE ACCOMMODATION TO A QUALIFIED INDIVIDUAL WITH A DISABILITY BY PROVIDING MODIFICATIONS, ALTERATIONS OR ADAPTATION IN POLICY, PROCEDURES, AND PRACTICES. PLEASE EMAIL CONTACT ALISHA CURRY IF YOU REQUIRE A REASONABLE ACCOMMODATION, AUXILIARY AIDES, EFFECTIVE COMMUNICATION SERVICES, OR TRANSLATION AT LEAST 48 HOURS PRIOR TO THE MEETING.
SI HABLA ESPAÑOL, TIENE A SU DISPOSICIÓN SERVICIOS GRATUITOS DE ASISTENCIA LINGÜÍSTICA. LLAME AL +1 919.683.1551.