02/08/2022
Public Notice Feb 10th Special Board Meeting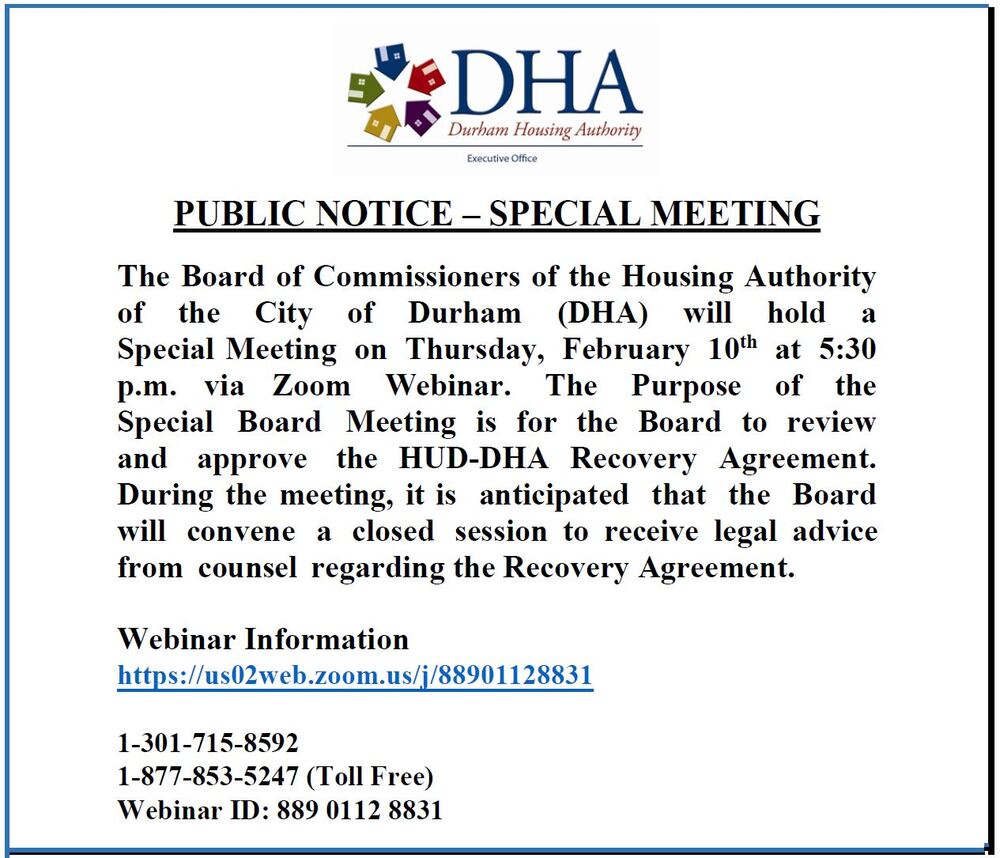 PUBLIC NOTICE - SPECIAL MEETING
The Board of Commissioners of the Housing Authority of the City of Durham (DHA) will hold a Special Meeting on Thursday, February 10th at 5:30 p.m. via Zoom Webinar. The Purpose of the Special Board Meeting is for the Board to review and approve the HUD-DHA Recovery Agreement. During the meeting, it is anticipated that the Board will convene a closed session to receive legal advice from counsel regarding the Recovery Agreement.
Webinar Information
Click here to join the webinar.
1-301-715-8592
1-877-853-5247 (Toll Free)
Webinar ID: 889 0112 8831
---
Notice of Meeting
The special meeting of the Board of Commissioners of the Durham Housing Authority will be held 5:30 PM Thursday, February 10, 2022.
Board of Commissioners
Daniel C. Hudgins, Chairman
Torrell Armstrong
Robert Glenn
Angela Holmes
Pebbles Lucas
Mayme Webb-Bledsoe
Christine Westfall
Jillian Johnson, City Council Liaison
Anthony Scott, Chief Executive Officer

Call To Order

Public Comments
Closed Session
Adjournment