03/10/2022
Resident Advisory Council Election Results
We would like to send a huge congratulations to our 2022 Resident Advisory Council leaders!
Special thank you to everyone that voted and participated. LEAD THE WAY!
#share #ResidentLeadership #DHA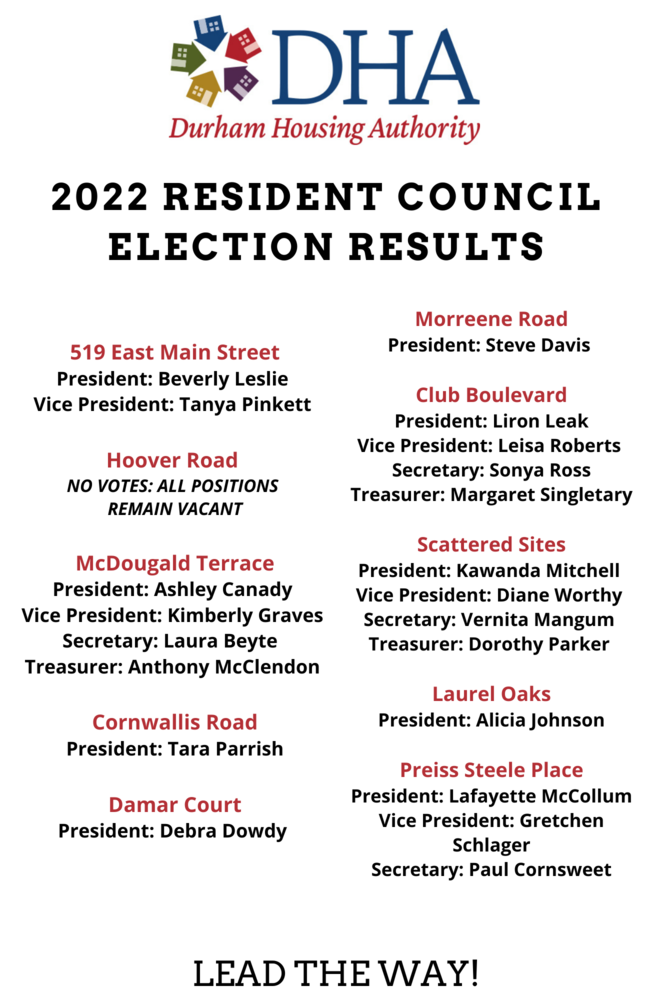 ---
2022 RESIDENT COUNCIL ELECTION RESULTS
519 East Main Street
President: Beverly Leslie
Vice President: Tanya Pinkett
Hoover Road
NO VOTES: ALL POSITIONS REMAIN VACANT
McDougald Terrace
President: Ashley Canady
Vice President: Kimberly Graves
Secretary: Laura Beyte
Treasurer: Anthony McClendon
Cornwallis Road
President: Tara Parrish
Damar Court
President: Debra Dowdy
Morreene Road
President: Steve Davis
Club Boulevard
President: Liron Leak
Vice President: Leisa Roberts
Secretary: Sonya Ross
Treasurer: Margaret Singletary
Scattered Sites
President: Kawanda Mitchell
Vice President: Diane Worthy
Secretary: Vernita Mangum
Treasurer: Dorothy Parker
Laurel Oaks
President: Alicia Johnson
Preiss Steele Place
President: Lafayette McCollum
Vice President: Gretchen Schlager
Secretary: Paul Cornsweet
LEAD THE WAY!