07/26/2022
New Housing Development to Honor Joyce Thorpe Nichols

Downtown Durham New Affordable Housing Development to Honor Durham's First Black Physician's Assistant: Joyce Thorpe Nichols.
To view all photos from The Joyce 50% Completion Celebration, view the photo gallery here.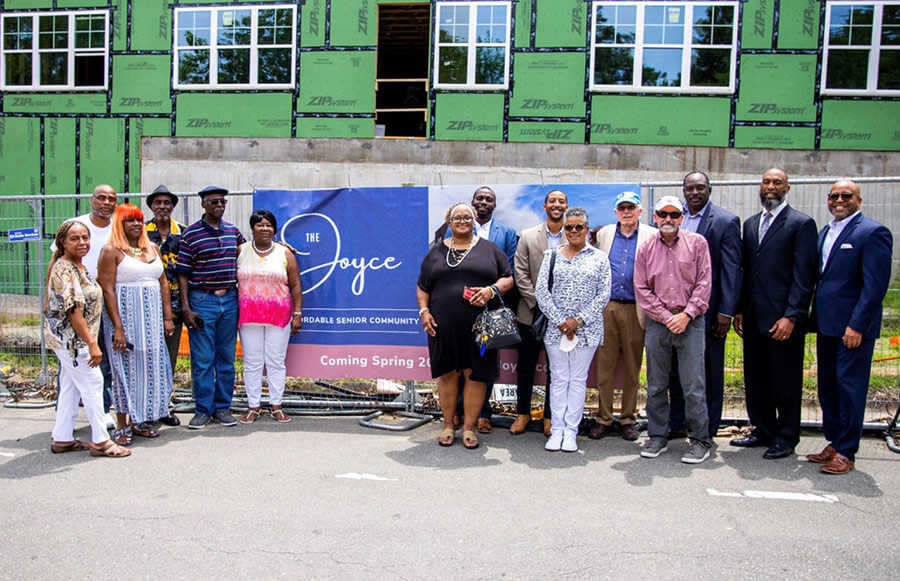 Durham, N.C. (July 13, 2022) Durham Housing Authority and development partner Laurel Street Residential celebrated fifty percent construction completion at Downtown Durham's new senior development, 'The Joyce.' The Joyce Senior Residences is named after Joyce Thorpe Nichols, who, in 1970, was the first woman and the first Black woman to graduate from the Duke Physician Assistant Program, making her officially the first African American female PA in the country. Ms. Nichols is also a former member of the DHA Board of Commissioners.
Nichols's resilience in the medical field and overall success echoes to the future as the namesake four-story building adds to the downtown Durham skyline just a block away from Duke's Physician Assistant School. "It's an honor to recognize Ms. Joyce Nichols and preserve the history of a Black trailblazer in the Durham Community with this new development," said DHA's CEO, Anthony Scott.
The Joyce Senior Residences is projected to be completed in Spring 2023. The $18.8 million senior development will include 80 units, common areas, and green spaces to provide safe, affordable housing for seniors in Durham. "Laurel Street is honored to partner with the Durham Housing Authority on this vital project honoring Ms. Joyce Nichols and her historical contributions to medicine as well as providing additional affordable housing options for Durham's senior residents," said Dionne Nelson, President & CEO of Laurel Street" For more information on the project, visit www.The-Joyce.com
About Laurel Street
Laurel Street is a leading multifamily residential development company experienced in developing high-quality communities for working families and seniors. Headquartered in Charlotte, N.C., the company has a current development portfolio of more than 5,000 units. For more information, visit LaurelStreetRes.com.
About Durham Housing Authority
The Durham Housing Authority is the largest affordable housing provider in Durham, North Carolina. DHA has developed, owned, managed, and contributed housing to diverse communities of choice since 1949. For more information, visit: DurhamHousingAuthority.org.
Media Contact:
Aalaya Sanders (Communications Manager)
919.407.0460
Email Aalaya