11/22/2022
Apply Now Morreene Road Apartments
¿Necesita traducir al español? El texto del sitio web de DHA se puede traducir a cualquier idioma que aparezca en Google. Haga clic en el enlace Traducir en la parte superior del sitio web para ver el sitio web de DHA en español. Si habla español, los servicios gratuitos de asistencia con el idioma están disponibles para usted. Llame al 1-(919) 683-1551.
---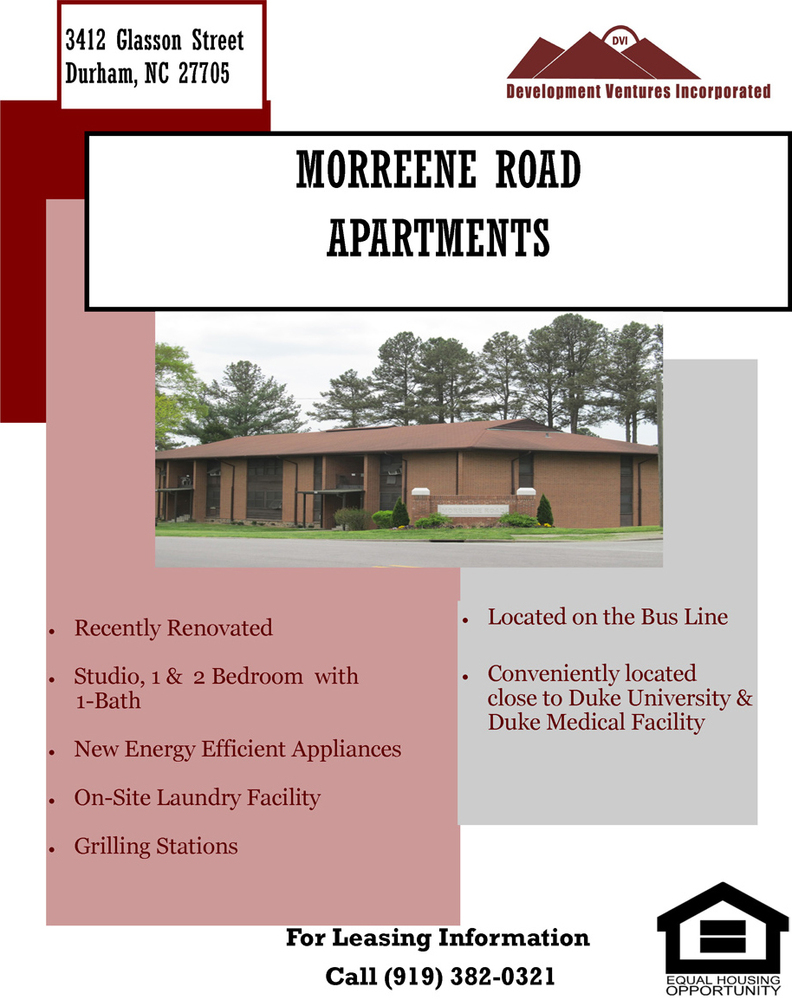 ---
Morreene Road Apartments
3412 Glasson Street, Durham, NC 27705
Recently Renovated
Studio, 1, and 2-Bedroom with 1-Bath
New Energy Efficient Appliances
On-Site Laundry Facility
Grilling Stations
Located on the Bus Line
Conveniently located close to Duke University & Duke Medical Facility
Waitlists are open for Studio, 1, and 2-bedroom units.
Days and time to apply: Tuesday, Wednesday, and Thursday 9 am - 12 noon
Location for Accepting Applications: Morreene Road Management Office located at 3412 Glasson St. Durham, NC 27705
For leasing information call: 919.382.0321
Want to know more about Morreene Road Apartments? Visit their community listing.