12/27/2022
Demolition of Durham's 519 East Main + Liberty Apartments Marks New Chapter in Affordable Housing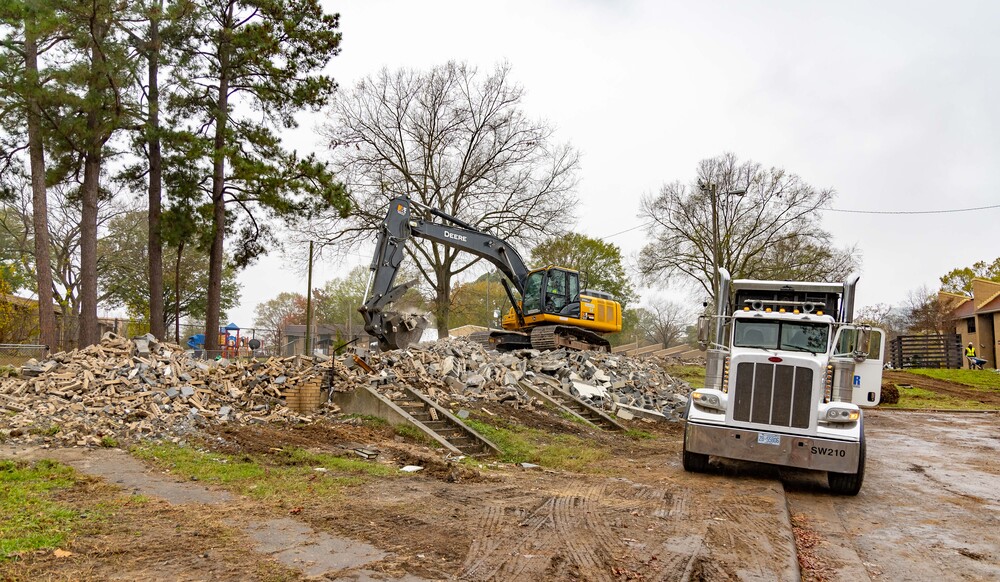 To view more photos from the event, visit the Durham's 519 East Main + Liberty Apartments Demolition Event gallery.
---
Forever Home, Durham Continues Progress for Affordable Housing Options
DURHAM, N.C. (November 15, 2022) - Durham Housing Authority (DHA) and the City of Durham together have begun revitalization of the former 519 East Main + Liberty Street Apartments east of downtown. The process started earlier this month, with Phase I demolition of eight buildings in the Liberty Street Apartments footprint to make way for new construction. The planned Elizabeth Street Apartments is scheduled to break ground on the site in early 2023 and will replace the buildings currently being torn down. This first phase will offer 72 family units, and the redevelopment of the entire site is being led by Laurel Street, a North Carolina-based firm.
Former occupants of the buildings to be demolished have been relocated to other affordable housing accommodations, including Willard Street Apartments. All residents impacted by the demolition will have the opportunity to return to the newly constructed apartments unless they choose otherwise.
"This initial, pre-construction phase marks the beginning of a new chapter in downtown Durham as we advance the mission to provide more affordable housing options for our residents in different economic levels," said DHA CEO Anthony Scott. "We're proud to see the commitment of the city and our allied partners in action, and look forward to building on this momentum to expand our efforts even further."
The first phase of demolition now underway is part of a multi-phase, whole-site revitalization, offering potential renters with both market average and low-to-moderate income the opportunity to live in Durham's vibrant downtown. The redevelopment is part of DHA's Downtown and Neighborhood Plan (DDNP) and is made possible through the City of Durham's Forever Home, Durham initiative, which provides funding for affordable housing projects and programs citywide.
DHA's DDNP has been driving revitalization efforts in downtown since it was completed in November 2019 and is intentionally reconnecting long-time residents and legacy businesses to Durham's economically booming downtown sector.
Media Contact:
Anne Bowers
(919) 368-9353
abowers@fwv-us.com
---
About Forever Home, Durham
Forever Home, Durham is an investment program aimed to create an affordable, livable, inclusive community for low-to-moderate income residents. The City of Durham works with the Durham Housing Authority and many other partners to address the urgent need for affordable housing by building new residential units, upgrading rental properties, and providing essential housing services. Visit foreverhomedurham.com to learn more.
About City of Durham Community Development Department
The mission of the Community Development Department is to foster safe, decent and sustainable neighborhoods, and to enhance housing quality and affordability for the citizens of Durham. The Community Development Department is responsible for coordinating the City's community development and neighborhood stabilization and revitalization efforts including financial empowerment and home retention, affordable housing, and homelessness services programs. Information is available at DurhamNC.gov.
About Durham Housing Authority
The Durham Housing Authority is the largest affordable housing provider in Durham, North Carolina. DHA has developed, owned, managed, and contributed housing to diverse communities of choice since 1949. For more information, visit: DurhamHousingAuthority.org.
About Laurel Street
Laurel Street is a leading multifamily residential development company experienced in developing high-quality communities for working families and seniors. Headquartered in Charlotte, N.C., the company has a current development portfolio of more than 5,000 units. For more information, visit www.laurelstreetres.com.