09/26/2023
DHA Awarded $6 Million in Grants for Housing Related Hazards & Lead Based Paint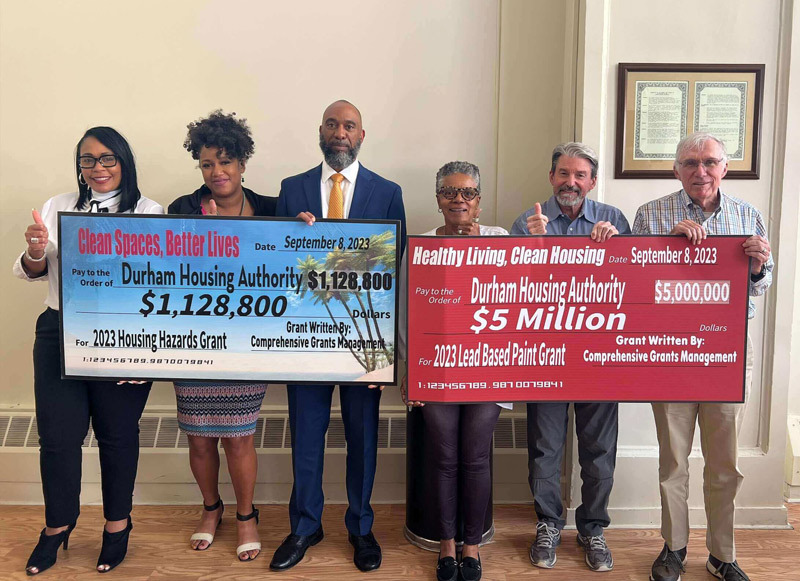 To view the full CBS17 article, please click here.
---
HUD announces The Durham Housing Authority awarded over $6 Million Dollars in Grants to Address Housing Related Hazards and Lead-Based Paint
Durham, N.C. (September 14, 2023) The U.S. Department of Housing and Urban Development (HUD) announced The Durham Housing Authority as a $6 Million ($1,128,800 awarded for housing-related hazards and $5,000,000 for lead-based paint) awardee of the $157 Million grant allocated to address housing-related hazards and lead-based paint issues.
The purpose of the grant's Capital Funding is to provide funding to public housing agencies (PHAs) to evaluate and reduce residential health hazards in public housing, including lead-based paint, carbon monoxide, mold, radon, fire safety, and asbestos. "With such a tremendous need in funding for repairs, this grant opens the door for DHA to invest in the safety and overall health of our residents," said DHA's CEO, Anthony Scott. "We look forward to applying this new funding to this year's Capital Improvements across our DHA communities."
"American families deserve a safe and healthy place to call home. However, in many older homes, lead-based paint can be a serious threat to the health and well-being of children," said HUD Secretary Marcia Fudge. "This funding effort will help us identify homes where occupants are at risk of lead exposure and other health hazards, and build on our promise of a healthier, stronger country."
For more information about this grant, please click here.
---
About Durham Housing Authority
The Durham Housing Authority is the largest provider of affordable housing in Durham, North Carolina. DHA has developed, owned, managed, and contributed housing to diverse communities of choice since 1949.