01/27/2021
Information for DHA Residents
Here is some important information for DHA residents:
PHADA Scholarships support students associated with member housing authorities (like DHA). PHADA's 1,900 member housing agencies represent over 1.9 million low-income housing units throughout the United States.
Information session on Friday, January 29, 2021 about a mentoring program with Duke Graduate students.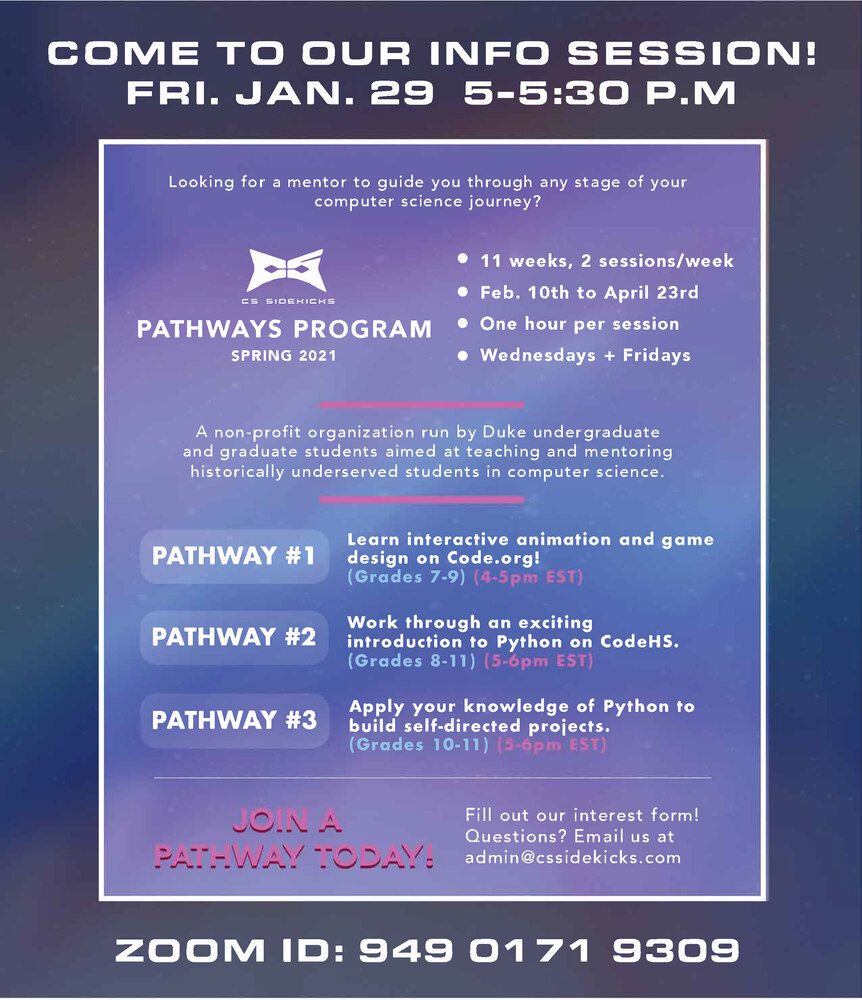 COME TO OUR INFO SESSION! FRI. JAN. 29 5-5:30 P.M
Looking for a mentor to guide you through any stage of your computer science journey?
PATHWAYS PROGRAM SPRING 2021
11 weeks, 2 sessions/week
Feb. 10th to April 23rd
One hour per session
Wednesdays + Fridays
A non-profit organization run by Duke undergraduate and graduate students aimed at teaching and mentoring historically underserved students in computer science.
Pathway #1 - Learn interactive animation and game design on Code.org! (Grades 7-9) (4-5 PM EST)
Pathway #2 - Work through an exciting introduction to Python on CodeHS. (Grades 8-11) (5-6 PM EST)
Pathway #3 - Apply your knowledge of Python to build self-directed projects. (Grades 10-11) (5-6 PM EST)
JOIN A PATHWAY TODAY!
Fill out our interest form!
Questions? Email Us!
ZOOM ID: 949 0171 9309
---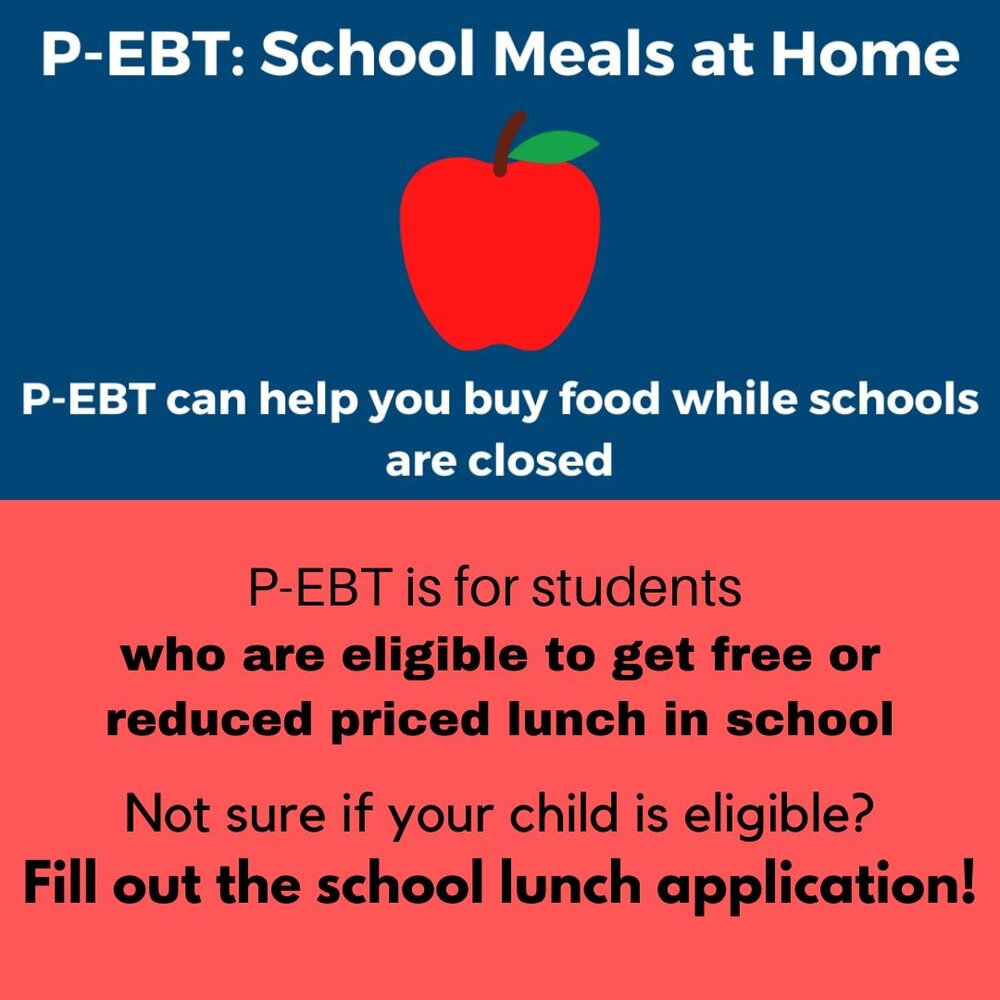 P-EBT: School Meals at Home
P-EBT can help you buy food while schools are closed.
P-EBT is for students. who are eligible to get free or reduced priced lunch in school.
Not sure if your child is eligible?
Fill out the school lunch application!
---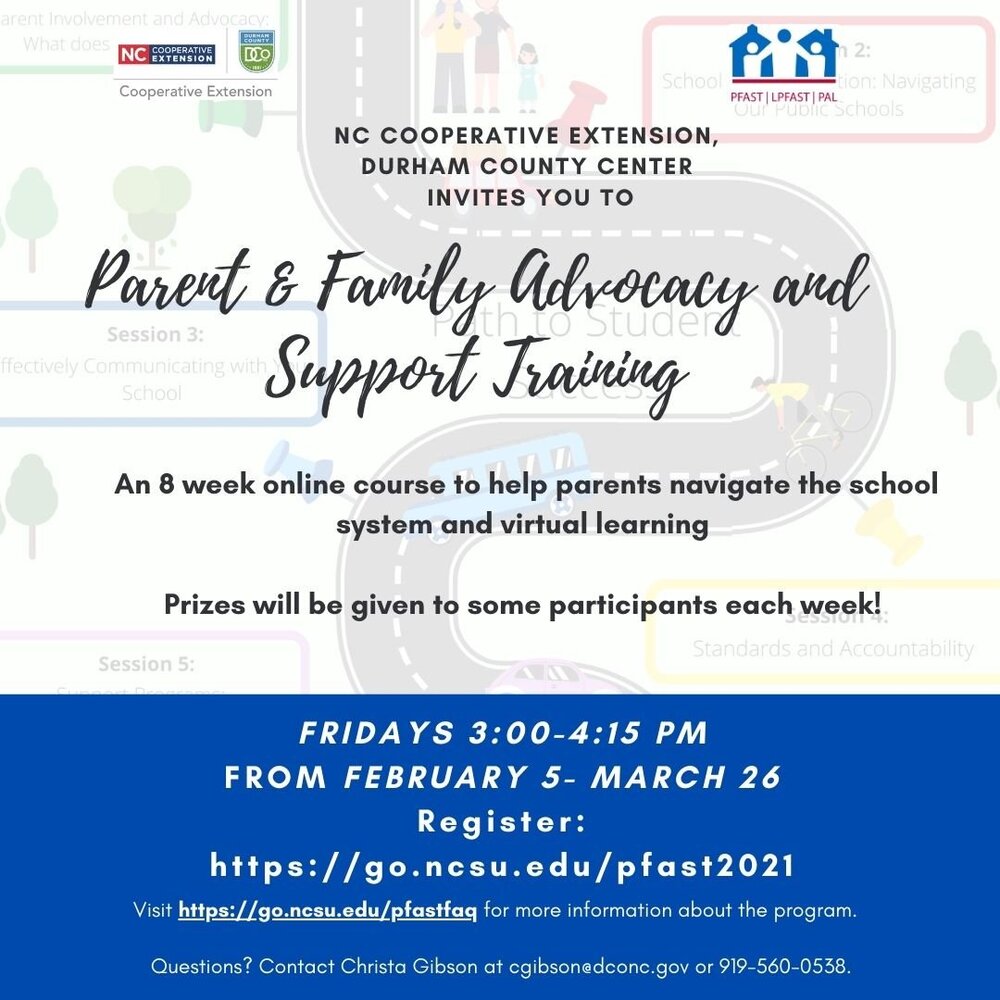 NC Cooperative Extension, Durham County Center invites you to Parent & Family Advocacy and Support Training
An 8-week online course to help parents navigate the school system and virtual learning. Prizes will be given to some participates each week!
Fridays 3:00-4:15 PM
From February 5-March 26
Register: https://go.ncsu.edu/pfast2021
Visit https://go.ncsu.edu/pfastfaq for more information about the program.
Questions? Contact Christa Gibson or 919.560.0538